Similar to when you join your work in the round, there can be a little gap when you bind off. This space between the first and last stitch makes the finished edge look untidy. Luckily there is a pretty easy way to fill in this space and make the edge look nice and continuous. This technique works perfectly when you are using a basic, knit-wise bind off. Watch a video on that here if you want to learn more about binding off.
1. Once you have bound off the last stitch, cut your working yarn with a few inches to spare, and thread it through a needle.
2. Take the needle and stick it under both legs of the first stitch that you bound off.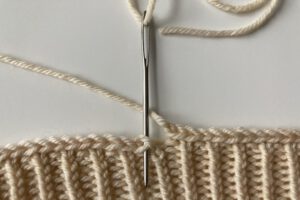 3. Finally stick the needle back into the space where you worked your last bind off stitch.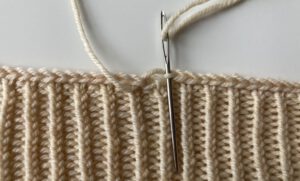 You don't want to pull this too tight. It will end up looking like one additional bind off stitch. This completes the round edge of your work seamlessly. Then you can just weave in your ends. Hopefully this tip will help you finish your current circular knitting project.