The humble and hardworking dishcloth. Dishcloths make excellent projects for beginners to practice their skills. We'll talk about the benefits of knitting dishcloths, the classic dishcloth pattern and other pattern options too.
Benefits of a dishcloth project
Dishcloths make great projects for beginners for a few reasons. First, many patterns require that you know just a few stitches. Second, they are small and quick to make. Not to mention that you can make as many as you'd like because, even if they aren't perfect, they will always come in handy. Another great thing about the dishcloth is that it easily allows you to see if there is any variation in your tension. This is a common struggle for beginners, and dishcloth projects allow you to observe and work on this aspect of your knitting.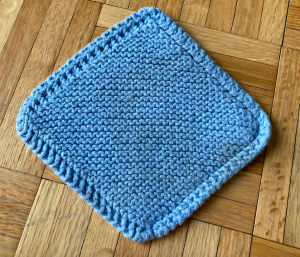 The classic and most commonly knit dishcloth is actually knit diagonally. This means that you start with a few stitches in one corner, increase the number of stitches to the size of dishcloth that you want, then decrease it down to the other corner. This is a great pattern because it is very repetitive. There are only a few steps you need to remember, so you can get the hang of it easily. However, it does include some variety in the stitches you need to know. This includes the knit stitch, yarn over stitch and the knit two together stitch. You can watch
this great video tutorial by knits&bits
showing all the details of how to knit this classic dishcloth.
One thing to keep in mind when knitting a dishcloth is the fibre you choose. If you are planning on using and washing your cloths, it is best to choose a cotton fibre. Using wool to make your dishcloth might cause it to shrink on you when you wash it. If you want to learn more about yarn fibres, you can check out our article on summer knitting.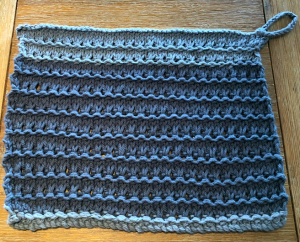 By no means do you have to stick to the classic dishcloth pattern. There are also many dishcloth patterns that are knit from top to bottom. These are also great options that incorporate other new stitches and designs into this smaller simple item. Yet another great advantage of choosing to knit a dishcloth is that there are so many free patterns available.
Whether you are a beginner wanting to build and improve your skills, or a more advanced knitter wanting to work on some basics, dishcloths are a great project. Quick to knit, great to work on your skills and super useful around the house.