This fall, I attended my first NYC yarn crawl. These happen a few times a year in New York City. It brings together makers in New York to have fun and support our local yarn shops. I tried my best to hit up as many of the participating shops as I could this past weekend. You can visit the NYC Yarn Crawl website if you want to learn more about future crawls.
I started the crawl at one of NYC's newer yarn shops, Cleo's. Cleo was hosting a yarn crawl kick off party in the evening on Thursday. It was a fun event with lots of shoppers, but also just lots of makers joining together to chat and work on their projects. Cleo's has a very young and vibrant energy, which I love to see. The shop has a comfy couch in the front, which I enjoyed relaxing on while working on my project. My favorite thing about Cleo's is all the fun knick knacks. There are a variety of pins, stitch markers, and cute needle stoppers that are just irresistible.
Friday ended up getting washed out by extreme rainfall and some flooding in NYC, so I didn't go out to any shops, but it seemed many others braved the weather to continue the crawl. 
On Saturday, I hit up as many shops as I could to make up for lost time. The first stop was Downtown Yarns. This little narrow shop was chock full of shoppers. When I arrived, there was a line to get in. Some areas are floor to ceiling with yarn, and it can be a bit challenging to get a feel for all of it. It was fun to see everyone planning out their projects to decide how much yarn to get. The yarn winder seemed to be going nonstop.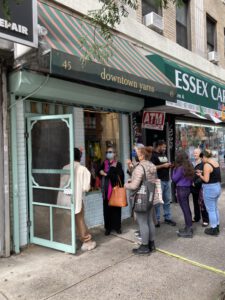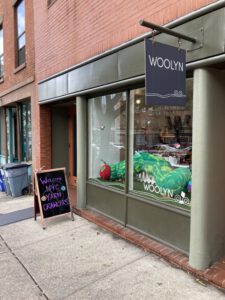 Next up I visited Woolyn. There was a large variety of threads, yarns and other materials to knit, crochet, weave, and embroider. The staff were very friendly and showed me one of their current embroidery projects. It was so cute, that I had to get a pattern for myself.
Brooklyn General Store also has a lot of variety, including yarn, thread and even cloth, a selection of crafting books and sewing patterns. They also hosted events with some designers, and yarn makers. The shop was bustling with people chatting and finding the perfect yarn for their next projects.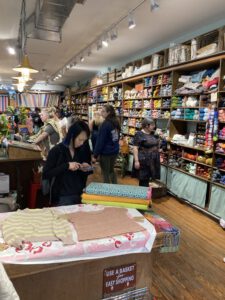 Argyle was in a lovely peaceful area, and like the neighborhood it was calm, and much less crowded by the time I went in. It was fun to browse some unique finds, like the Luminous Brooklyn yarn, which is carried exclusively by this shop. I got to talk with some other crawlers about their experience with the event so far this year. Everyone seemed to be enjoying all the yarn shopping.
On Sunday, I visited shops in Manhattan's upper east side and upper west side. It was a beautiful day, and strolling around from shop to shop was a pleasure.
First, I visited Knitty City. A cute shop with a great selection of yarns and books. There were some great finds for pattern books, from vintage styles to Lord of the Rings. Both the shoppers and staff were in good spirits, and I enjoyed some great conversations.
Annie & Company Needlepoint & Knitting
My final stop for this crawl was Annie & Company Needlepoint & Knitting. This spacious shop has a large variety of cross-stitch patterns as well as carrying yarns and knitting supplies. It was fun to browse their extensive cross-stitch pattern collection, but I ended up taking advantage of their great deal of 20% off yarn!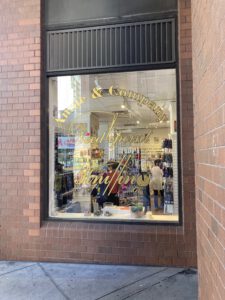 I had such a fun time at the yarn crawl this past weekend. I don't think my wallet will be thanking me, but I am already looking forward to the next one. New York City is lucky to have so many great yarn shops, and yarn shoppers. Meeting fellow makers and getting excited about future projects is just what I need to start off my fall knitting.