│S│T│ R│ I │P│E│D│ S W E A T E R S
Continuing with the classic knits, striped sweaters are next in line.The nautical striped sweater look has been around for years, but like many other classic patterns it is making an even bigger comeback this fall. They are just timeless, clean looking and a little something extra. The simple aesthetic, Scandinavian style is definitely blowing up and is absolutely something we can get behind.
Most fashion retailers have joined the trend, but we like the idea of making something of your very own – that won't look washed out or have frayed hems after a couple of washes. Why not knit your very own in a high quality material, that will last you for years to come – and will probably turn out cheaper in the long run. People want to look like they're wearing expensive clothing – which may not be within everyone's budget, and that is where being able to make your own clothes comes in handy.
sustainability & slow fashion
We live in 2022 and it is important to be aware of cyclical fashion and the harmful nature certain industries can have on the world. We understand that it isn't available to everyone, but it is important to take advantage of slow-fashion pieces if you have the privilege too. Sustainability within the clothing industry has never been more attractive, and  we want to further that message. Fashion is predictable and cyclical – don't succumb to the fast-fashion trends that will go out of style before they've even arrived in your post box. A staple striped sweater will be a functional and basic piece for years to come, and therefore a must-have in everyone's wardrobe.
First out is the marseille sweater from petite knit. They always master the classic, clean and neutral look – which is exactly the vibe we are going for this fall and winter. We're definitely aiming to add pieces that can be styled endlessly, and this is definitely one of those sweaters. It is still very much customizable where you can choose the base colour and stripes, we love!!
Sweater no 17 from my favourite things knitwear is just the perfect oversized sweater with wide sleeves. Everyone needs an oversized sweater in their wardrobe – they are perfect for layering in the cold winter months, as well as so stylish! The wide sleeves are also a great touch, most sleeves have a tapered hem, so we love when sweaters have a stand out detail like this. It just looks like such a comfortable and cute sweater, knitted in one strand merino. Again, colours are customizable – and every combination looks great!
Novemberknits has the most gorgeous striped sweater under the name sunde winter sweater. It is slightly oversized, which we love due to reasons mentioned above, as well as having a slightly higher neckline. The latter feature is crucial for the colder winter months, and will give your neck warmth without looking silly, which some drastic turtlenecks may. The classic and clean look this sweater gives off is just to die for! The colour combinations are also endless. You can go for a more nautical vibe with white and blue or a more neutral fall vibe with brown and black. 
Next out is the dorte sweater from greforia fibers – the most gorgeous pullover that features the amazing combination of an all-over ribbed pattern and stripes. This is what we call a classical combination, being able to mix two such staple features and do it well is just amazing. You're left with a minimalistic piece full of gorgeous details. It has a rather oversized, slouchy feel to it which guarantees comfort while looking so stylish. The colour combination is up to you!
Lastly we have the gorgeous JIM sweater by Paula Strickt, a boxy striped sweater in the most classic combination. The sweater has the most unique neck, this is hard to come by, but genuinely makes all the difference. We're obsessed with the cut and look it gives – such a special piece for your wardrobe. We also love the flexibility of this piece as you're not only tied to wearing it during the fall and winter, it can just as easily be utilized on a chilly summer evening.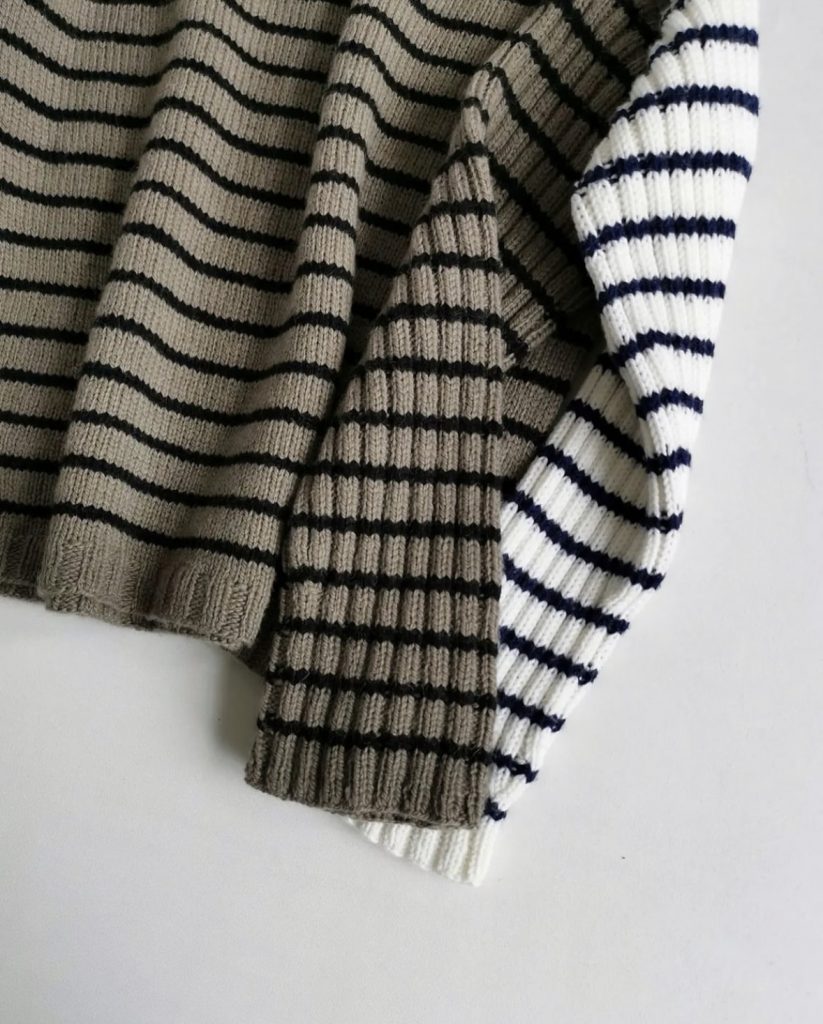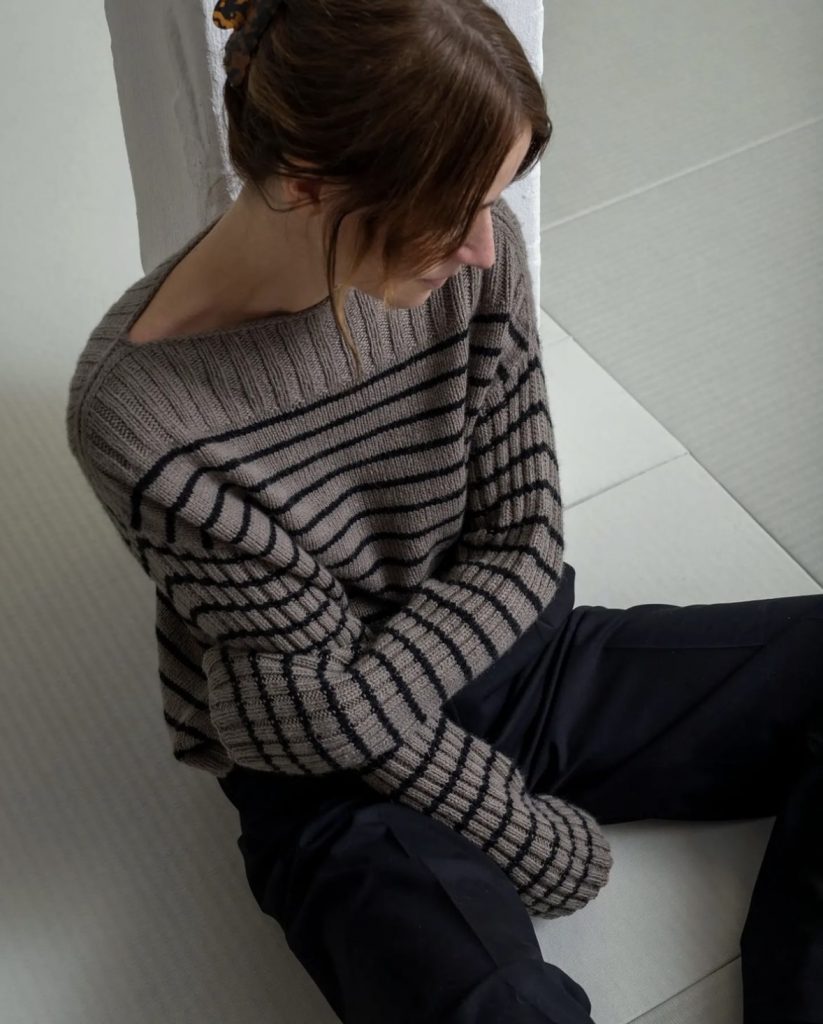 We hope you'll put knitting at least one striped sweater on your agenda this fall. We're going for timeless, classic and clean and this is just the pattern. Join us on this trend, we'd love to see what you come up with. Follow and message us on instagram so we can follow your journey!