Although we are in the midst of summer, certain countries are renowned for temperature drops when the sun is setting. That means that the dress you were wearing during the hot summer day won't suffice in the evening. Here, knitted cardigans and sweaters come in handy. Not only do they look so good layered over summery pieces, it is also a perfect way of adding a pop of color to your (maybe?) otherwise boring or one-colored outfit. As it is the summertime, we don't want super heavy or thick knitted sweaters, rather lightweight and breezy sweaters have come to play – the perfect combination of a warm sweater, with air ventilation, for those slightly cooler summer evenings.
These are the three sweaters we are wearing this summer, after (hopefully not before) the sun has set. Click the picture to be transferred to their instagram page.
Daisy genseren - Camilla Pihl
How amazing is this daisy sweater from Camilla Pihl. The perfect cover-up for when the temperature drops in the evening. Knitted in brushed alpaca allowing for a warm, yet lightweight feel. It comes in the most gorgeous colours as well, this is a must have this summer! Knit your own with this completely free sweater pattern, get access here.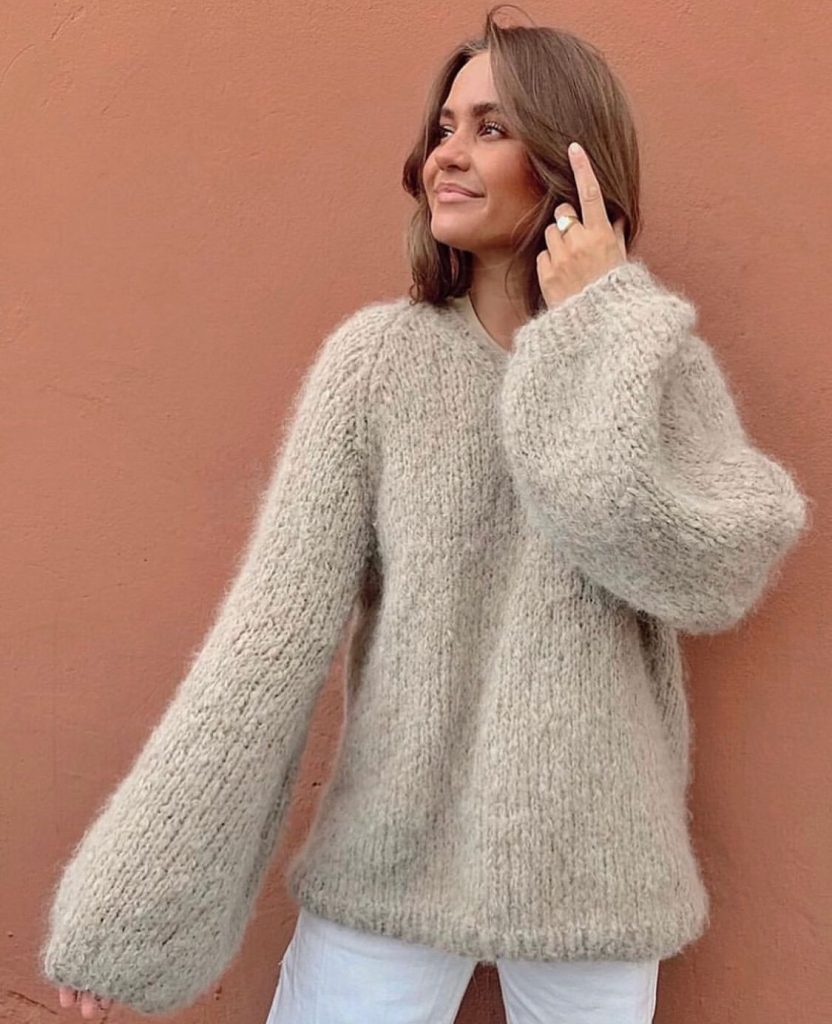 The gorgeous @ingridabelsen in Camilla Pihl's daisy – paired with what looks like white linen trousers, what a dream!
Sweater no. 6 - My Favourite Things Knitwear
Next up is this gorgeous feminine, slightly oversized, sweater from My Favourite Things Knitwear. The sweater is a bit shorter than your average one, although not cropped, making it perfect to layer over your t-shirt or dress this summer. Knitted in a combination of cotton and alpaca, giving it just the right texture. If you love this as much as we do, purchase the pattern here. 
Knitted in a merino and mohair blend, allowing for that lightweight feel, making it a suitable summer sweater. The v-neck allows for an even breezier look, as well as staying trendy and fashionable. If you are looking for a new knitted summer piece, this sweater is for you. Purchase the pattern here. 
Okay, we're fully aware that a sweater during the summer is not needed in certain European/American countries, however, if you find yourself in Scandinavia or England it may very well be a necessity. That is why we have picked our very favourite cover-up sweaters for those slightly colder summer evenings, and shared them with you. We hope you love them as much as we do, and knit your very own for those chillier nights. If you do, please remember to share your amazing creations with us on Instagram.