We've been working on something really exciting lately, and we're so excited to finally share it with you. As you may already know we are adding patterns to the app, but what is going to surprise you is how we're doing it.

We are here to simplify the lives of makers all over the world, and to be honest – the way we buy patterns today has a lot of unnecessary steps. There are a lot of things to consider during the purchasing process, such as the quality of the pattern, how easy it is to use and if it's worth the money – especially when trying something new. Now picture this: What if it was as easy to acquire a pattern as it is to watch a movie on Netflix?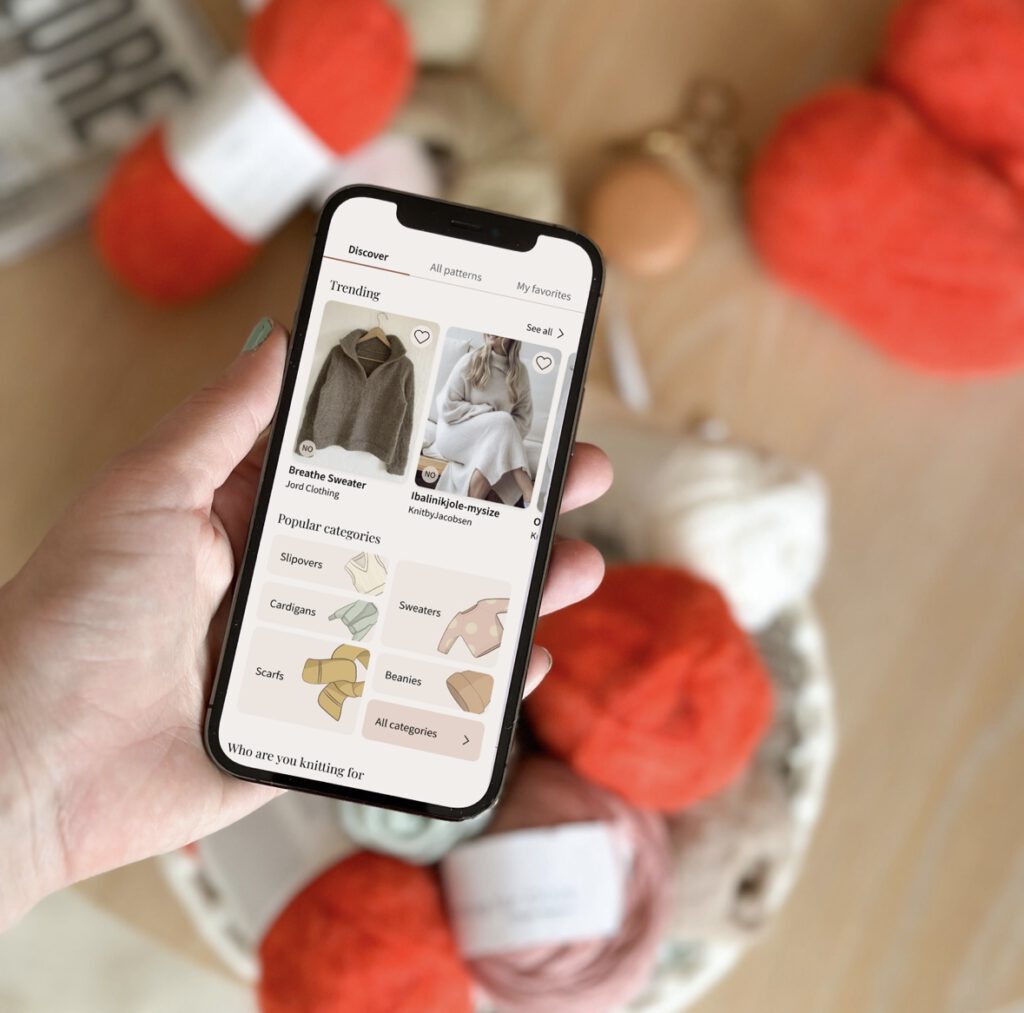 As a part of our ongoing commitment to providing you with the best possible knitting/crocheting experience, we are thrilled to announce a completely new approach to finding and using patterns.  After months of hard work and dedication we are introducing a subscription service for patterns in the Knit&Note app, where you'll get unlimited access to all patterns available. This is a game-changer!
We'll take the hassle out of buying patterns and make everything super easy for you. You can access a multitude of new patterns with just one click, and start using them right away with the help of our tools, such as the highlighter, row counters, and other essential features. And with our subscription, you'll never run out of inspiration. We'll continuously add new and exciting patterns, so you always have something to work on. It'll be easy to discover new patterns and get inspired by seeing which ones are popular. It is all at your fingertips! Our designers and patterns are thoroughly chosen to guarantee quality and stylish designs. We have already partnered with some of the most reputable designers, recommended by you!  
To kick this whole thing off we're doing a kickstarter campaign launching after the summer.  Everyone is welcome to join and receive exclusive benefits and discounts. By supporting our campaign, you'll have the opportunity to get early access to our subscription service, along with other exciting rewards and perks. Do you want to be one of the first ones out?  Click here to sign up for our Kickstarter.
We're committed to providing a stress-free and enjoyable experience for all our users, and this service is an important part of  that promise. With a wide range of patterns from inspiring designers, you'll have easy access to the latest trends and endless possibilities. Finally, you can enjoy knitting and all it has to offer at its fullest potential.