The perfect summer wardrobe staple: knitted tanks and tees.
You may be unsure about what's in fashion or how to dress this summer, I am here to help! Trends are constantly fluctuating, we know that, although it seems as though light summer knits are here to stay, and have been since 2019. We love it! They are all over my instagram and pinterest feed, as well as in every apparel retailer. But just why are they so popular this summer 2022? I think the breezy fabric, loose fit and somewhat casual look is what people aspire for these days. They want to look good and fashionable, without it seeming as if they have put in any effort! Also, comfort is important of course, as we've become accustomed to sweatpants and hoodies for the past two years. That's why light knitwear is the elite summer clothing, a combination of all of the above. So, now that we have established that they're trendy, how do you wear them?
Although these can be found at every possible retailer, we love the idea of making your very own. You can't find the exact color and fit you are looking for – why don't you do it yourself? Remember to bring out/buy those summer yarns, like cotton and linen, add them to your yarn stock, and start knitting! I am treating this article like a mood board called; summer lightweight knits. I am going to add all the gorgeous tanks and tees perfect for summer, and briefly link where you can find the pattern and who has knitted them.
ribbesinglet from sandnesgarn
Amazing ribbed tank, knitted with a yarn mixture of cotton, viscose and linen. A summer must have! Get the pattern here. 
my favourite things knitwear's camisoles
Pictured is camisole no 4, 5, 6! My favourite things knitwear offer a variety of different ribbed tanks, all very suited for the warmer weather. Choose the one that you like, whether that be a chunky knit, thin straps or a v-neck. These can all be found on their website : no.4, no.5, no.6. First picture knitted by @jknits_ on instagram!
gregoriafibers ingrid top
this sleeveless top with a decorative eyelet pattern from gregoriafibers is amazing! We love the almost crochet-look it gives, and how breezy it is for the warmer summer months. Access the pattern here. 
silja summer tee by frubroundal.dk
This slightly oversized tee is the perfect summer blouse, featuring short sleeves and a v-neck. It would pair amazingly with shorts, skirts, jeans or over a dress. We love the relaxed and casual feel it has. Buy the pattern here.
the shell bra by nakedknit
Moving slightly away from tanks and tees, although this could easily be used layered under a shirt, is the shell bra. It's super simple yet unique structure is amazing, and can easily be used as a statement piece during the summer. Get access to the pattern here.
This one is knitted by @frubroundal on instagram
ingetop by spektakelstrik
We love this tank featuring a deep v-neck both back and front. It's also slightly shorter with a wider fit, giving super casual and cute vibes for summer. Get the pattern here.
knitted by @mettesommerfugl on instagram
both knitted by @dagmartamura on instagram!
Purple is Sommer Ella by Lene Holme Samsøe. The best fitting summer t-shirt with a leaf-pattern. It is slightly cropped, as well as slightly baggy – making it the perfect fit. Get the pattern here.
The white is anker tee by petiteknit. Again, a great tshirt for the summer, featuring a ribbed neckline and sleeve. Buy the pattern here.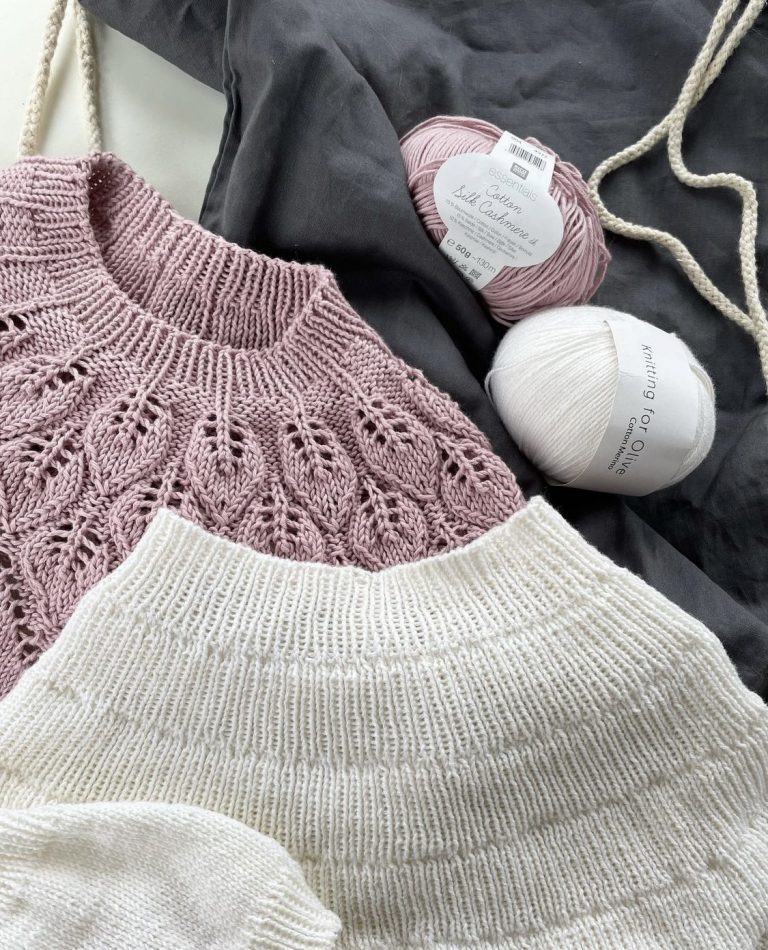 Hope you enjoyed looking through this article as much as I liked writing it. Get with the trends and knit a tank or tee, just in time for summer. If you do, tag us on instagram @knitandnote so we can see your creations.